Leon Wang
Dreher High School
Leon Wang of Dreher High School is a senior with a 5.507 GPA and is first in his class.  Leon participates in cross country and wrestling.  In wrestling, he is a four-year starter, two years captain of the team, two times district and region champion, two times state qualifier and on the North/South All-Star Team.
Leon's services to his school and community include tutoring to both high school and college students, founder and captain of the Chemistry Club, captain of the math team and member of the marching band.
Leon has scored 1550 on the SAT, 36 on the ACT, he is a National Merit Scholar, AP Scholar, Presidential Scholar Candidate, and a four-time state champion Chemistry Olympiad.  Leon will be attending M.I.T. in the fall.
Riana Patel
Wilson High School
Riana Patel of Wilson High School is a senior with a 4.274 GPA. She participates in volleyball and soccer. Riana has been on the soccer team for six years and is the captain of the team. This year she scored seventeen goals and earned All-Region honors.
Riana is a leader in the school as group commander of the SC-051 Unit Air Force JROTC program. She has coordinated three blood drives for the Florence community as a member of the Tiger Club service group. Riana participated in the October's Trick or Can drive providing over 1,000 cans for a local food bank. Riana is in the International Baccalaureate Middle Years Program dual credit program (IB MYP), the National Honor Society and a Coker University Honors College commit.
Alexis Deloach
Wade Hampton High School
Alexis Deloach of Wade Hampton High School is a senior with a 5.285 GPA and ranked first in her class. Alexis participates in cross country, basketball soccer, golf and tennis. In tennis, she is a six-year starter, four years as team captain and three years region player of the year.
Her services to the school and community includes coordinating several blood drives, as well as assisting students through a tutoring program.
Alexis is described by one of her coaches as an all-around model student athlete that has earned countless academic awards and is very committed to excellence and her journey to become a doctor.
Ella Froedge
Palmetto High School
Ella Froedge of Palmetto High School is a senior with a 5.885 GPA and ranked second in her class. Ella was recently named Distinguished Young Woman of South Carolina for 2021. She is a Junior Scholar, Palmetto Fellow recipient, Beta Club member and National Honor Society member.
Ella is a mentor for young girls, a small group leader in her church and a Teacher
Cadet for Palmetto High School.
Ella is described by one of her coaches as an amazing and exemplary student that has been a tremendous role model for her peers, and she has performed very well athletically in soccer earning All-Region five times and three SCHSL State Championships.
Promise Henry
Broome High School
Promise Henry of Broome High School is a senior with a 5.362 GPA and is ranked third in her class. Promise is a very dedicated student involved in Student Government, Beta Club, National Honor Society, and a member of the competitive cheer program.
In her community, Promise created a gently used dress closet providing students in her school the opportunity to have appropriate attire for any occasion from formal wear to job interviews. Promise is described as a very hard worker both on and off the mats and has an unmatched willingness to help others.
Yasmin Richardson
Lake Marion High School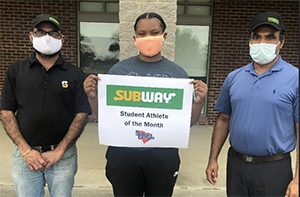 Yasmin Richardson of Lake Marion High School is a senior with a 4.166 GPA. She is a three-sport athlete participating in volleyball, basketball and softball.
Yasmin is a leader in the JROTC program and has conducted several community services projects through athletics, JROTC and her church.
Yasmin is in the top 10 in her class, participating in the dual enrollment classes and very active in her school.
Gavin Phillips
Andrew Jackson High School
Gavin Phillips of Andrew Jackson High School is a senior with a 4.267 GPA. He is a three-year letterman in football and a five-year letterman in baseball.
Gavin has been named All-Region and All-State in football. He has been the starting catcher for the baseball team every year since eighth grade.
Gavin is a member of the Beta Club and the Fellowship of Christian Athletes. Gavin helps with activities like Christmas at the Ridge, collecting school supplies and an annual coat drive. Gavin is a baseball commit to University of South Carolina Salkehatchie.
Ian Shark
Colleton County High School
Ian Shark of Colleton County High School is a senior with a 3.3 GPA. He is an honor student and captain of the football team. Ian was the Region Lineman of the Year, selected to the All-State Team and started in the Blitz Bowl All-Star Game. Ian has earned his Eagle Scout Award from Boy Scouts of America for his years of hard work to rebuild a recreation area for a local animal shelter. His teachers describe him as a pleasure to have in class and his selfless contributions to others is what is expected from a student as special as Ian.
Lily Woods
Bishop England High School
Lily Woods of Bishop England High School is a senior with a 4.4 GPA. She is President of the Random Acts of Kindness program and one of the most decorated SCHSL high school girls' tennis players ever.
As team captain, Lily enjoys leading the Battling Bishops in both tennis and basketball. In tennis, she has earned impressive All-State honors for six consecutive years. Lily has won the Individual State Tennis Singles Championship three of the past six years. In the history of South Carolina high school girls' tennis, no one has posted a better win/lose record. Lily is proud to have signed a scholarship to play tennis at Wofford College. She is a member of several BEHS clubs and organizations and serves as a volunteer in the community.
December 2020
Jakub Jerzmanoski

Daniel High School
Jakub is a senior with a 4.948 GPA. He is an honor student, and captain of the swim team. Jakub is affectionately known as Kuba by his peers. He is a four-year letterman and was recently named to the All-Region Swim Team. His coach describes Jakub as a tremendous leader by example always willing to help and encourage others to be there best. Jakub is a leader at school and in his community. He has earned his Eagle Scouts. His service project can be seen all over the city of Clemson. He assisted with the labeling of all the water drains systems in the city to assist with and protect the clean water. Jakub is an AP Student, a member of the Beta Club, the Academic Team, and is a district art exhibition winner for his 2D design for digital photography.
Armoni Green

Timberland High School
Armoni is a senior with a 3.07 GPA.  She is an honor student, and captain of the volleyball team. She has also played basketball, ran track and is a part of the Jr. ROTC program.  Armoni is describe by her coach as a very hard-working athlete, that has maintained a full-time job, academics rigor, volunteerism as well as a leader on and off the court, she gives 100% in everything.  Armoni is very active in her community to include her handing out Christmas cards in a nursing home during the holiday season.  Armoni will be graduating early "January 26, 2021", enlisting the United State Army, and pursuing a degree to become a registered nurse.
Ella Kate Brannon
Greer High School
Ella Kate is a senior with a 5.021 GPA. She is president of the senior class and a four-year letterman in tennis and she served as captain of her cheer squad in the 9th and 10th grades. Ella serves as Editor in Chief of the Le Flambeau yearbook staff, a member of National Honor Society, Beta Club, Fellowship of Christian Athletes and Spanish National Honor Society. She is the reigning Miss Greer High School and is described as a very caring individual that has always shown outstanding sportsmanship both on and off the courts. She has used her personal platform from the "ground up" to better her community.  She has built The Blessing Boxes for the community, assisted charities with the Ronald McDonald House, the Salkehatchie Summer Service group, the Upstate volunteer group, and Greer Memorial United Methodist Church youth group. First and foremost, for Ella Kate is her academic career She is the British Literature Award winner, a Greer honor-roll student, ranks in the top ten in her class. The Subway November Student of the Month Ella Kate Brannon of Greer High School.
Paulina Halus

Wilson High School

Paulina Halus receives her Student of the Month recognition from Florence-area Subway franchisee Dipali Patel and Wilson High School Athletics Director Derrick McQueen
Paulina is a senior with a 5.507 GPA.  She is a 2020 SCHSL Scholar Athlete and captain of the soccer team.  Paulina's services to her school and community include coordinating a SAT Preparation Club where she has virtually led her peers weekly in preparing for the SAT while out of school during this pandemic.  Paulina is a member of the Tiger Club which is a school wide service group completing community services monthly where she chaired October's Trick or Can drive that provided over 1000 canned food items for the local food bank.  She participates in Cardboard Box City a homelessness awareness event, delivered cards for nursing homes and hospital patients.  Paulina is an honor student currently in the (IB) International Baccalaureate Program where she earned a perfect score in the IB Spanish.  She is a member of the National Honor Society and the Beta Club, National Spanish Honor Society, the Robotic Team, Math Team, Palmetto Girls State, US Naval Academy Seminar, West Point Leadership member and the SC Youth Government member.
Rebecca Liu
Wilson High School
Rebecca is a senior with a grade point average above 5.0.  She has been a member of Wilson High School Tennis team for six years earning All-Region from 2015 – 2019, All-State and North-South All-Star Player for the 2019 season.
Rebecca is very passionate about community service, academics, and athletics. She has provided demonstrations for SC Junior Tennis Foundation and is an Ambassador for The Florence Tennis Center at the annual Volvo Car Open, additionally, Rebecca has been a member of Florence County 4-H Teen Council which she organized and implemented.
Rebecca is an honor student currently in the (IB) International Baccalaureate Program, a member of the BETA Club, National Merit Scholar Semi- finalist, House of Representatives Member at Palmetto Girls State and a Carnegie Hall Honors Performance Orchestra Violinist.
Christiana Scott
South Point High School
Christina is a senior with a grade point average above 4.0 ranking in the top 15% of her class. She is a four-year member of the softball team.
Christiana has been All-Region multiple times and HHS All-State Honorable Mention.  She volunteers at Children Attention Home, assisting the children with reading and there assignment along with helping in the administration office filing records.
Vance Strobel 
Blythewood High School
Vance is a senior at Blythewood High School with a 3.5 grade point average. He is a member of the soccer team and has served as captain for the two years.
Vance has shown great leadership among the younger players on the soccer team, guiding them with decision making.  He is a leader and example on and off the field.  He is a member of the Captain's Class, which involves the participants looking at how their leadership can improve the attitudes, behaviors, character, and motivation of student-athletes at Blythewood HS.  Vance volunteered to help with field day at Lake Carolina Elementary School and volunteers to sort food at Harvest Hope Food Bank.
Rachel Larson
Aiken High School
Rachel is a senior at Aiken High School with a 4.0 grade point average.  She is a member of the golf team and the soccer team.
She is a member of the Yearbook staff, Beta Club, and Young life.  She assists with the school athletic social media sites and the website.  Rachel's leadership on and off the field at Aiken High School will be extremely hard to replace.  She will college soccer and pursue a degree in Business Administration.
Shataveya Anderson
Lee Central High School
Shataveya is a senior with a grade point average above 4.0 and will graduate in the top 5% of her class. She has been a member of the Stallions Cheer Squad for the past four years.
Shataveya is one of those athletes willing to meet the other cheerleaders from the opposing teams and create a bond and relationship with them that will last throughout her life.  She is very outgoing, competitive but thrives on good sportsmanship.   In school and in the community, she exemplifies her leadership skills through her constant service.  Prior to the pandemic she led the cheer community service project as well as volunteering at the local library to read.
She is an honor student involved in dual enrollment courses, perusing her associate degree from Central Carolina Technical College.
Lexi Winters
White Knoll High School
Lexi is a sophomore with a 4.87 grade point average. She is a three-year starter as catcher for White Knoll softball team and helped to lead her team to the first State Championship in softball.   Lexi's softball season got off to one of the best starts in White Knoll School's history, before COVID-19 brought the season to an end.  In only one week of play, at the plate Lexi was 7 of 8 with 4 home runs, 3 doubles, 9 RBI's and was named MaxPreps/NFCA player of the week; and the team was off to a 5-1 start.
Lexi is a leader in her school and very active in the community.  She volunteers with PAL League, which is a baseball/softball league that serves students with disabilities or special needs to be able to play the game.  She also volunteers at the "courage center" serving breakfast on special occasions   Lexi dreams of being a starter for the University Of South Carolina softball team and continuing to serve her community.
---
Mitchell Steven
Gray Collegiate Academy

Mitchell is a senior with a 4.98 grade point average.  He serves as captain of both the cross country and soccer teams and has also been a four-year letterman on each team.  His other honors include All-Region Soccer 2019; United Soccer Coaches Academic All-American Nominee and All-Region Cross Country 2017 & 2018.
Mitchell is a mature, quiet leader who truly leads by example. He has a tremendous work ethic that has served him well in the classroom and the community. Mitchell serves as GCA Secretary and is a member of FCA and Student Boosters club.  He is also a very active member in his church (Mt. Herman Lutheran).  Mitchell serves with the Mt. Herman Lutheran's youth group with most of their services to include the beautification cleanup group at church.
Jenna & Jordan Berger
North Myrtle Beach
High School
Jenna & Jordan are ranked number 1 and 2 in the senior class with grade point averages above 5.0.  They are 3 sports athletes competing in volleyball, basketball and soccer. They were named All-Region in volleyball and basketball. Jordan was named All-State in volleyball and basketball.  Jenna tore her ACL which required surgery causing her to miss her junior year. Jenna & Jordan are very supportive and lean on each other for strength, motivation, support and encouragement.  These characteristics along with Jenna and Jordan's leadership and positive attitudes were key factors in helping the volleyball team win its second consecutive State Championship and basketball advanced to the third round of the playoffs.
Jenna and Jordan are members of the National Honor Society, Beta Club, NMB "AP" program, Captains Club, Varsity Club and FCA.  They are very active in school and the community. They do fundraisers for Special Olympics, organize food drives and are active in church.
North Myrtle Beach AD shared "Jenna and Jordan epitomize what student athletes should be and what great student leaders should be, more importantly they are truly amazing young ladies of great faith, always looking to help others.
Tevin Hickmon
Lee Central
High School
Tevin is a senior with a 4.25 GPA.  Tevin is described as one of the most selfless athletes to ever come through Lee Central.  Tevin is a member of the National Honor Society, Beta Club, Lee Central Early College, and the football program.
Tevin is considered a community man.  He is employed at the local grocery store.  He's involved in many community projects from Thanksgiving baskets, to toy drives, to tutoring his peers, manager for the basketball team, to helping other students get jobs.
Tevin is working hard to get his associate degree while in high school.  However he's a young man that will always take the time to help others.
Hannah Green
Keenan High School
Hannah is a junior with a 4.76 GPA.  She is captain of Student-Athletic Council and the cheerleading team at Keenan.
Hannah's services to her school and community include coordinating a canteen at lunch to raise money for the teams adopted families and a toy drive to benefit over 20 families at Carver Lyon Elementary School.  Hannah has coordinated a theme night for all Keenan basketball games to increase student attendance, to include an outstanding district recognized tribute to Kobe and Gigi Bryant.  Hannah is a member of the National Honor Society and the Beta Club.
Alexander Cummings
Riverside High School
Alex is a senior with a 3.81 GPA.  He was captain of both the soccer and football teams, a leader both on and off the fields. After receiving three concussions, his high school athletic career as a senior was ended.  The NFHS Concussion course was very beneficial to Alex and his parents. This was a very hard time in this young man's life and Alex's service to his school and community became a focal point.  He volunteers at two elementary schools as a mentor, works with the local Meal on Wheels program and assists with Riverside Special Education students in their coffee shop "all before his school day starts". He has also achieved the rank of Eagle Scout.  Alex recently attended the Spartanburg County Shining Stars Prom and spent the evening with an exceptional student who is non-verbal.  Alex and his fishing partner are qualifiers for the SAF High School Nationals in Bass Fishing.  Alex is the first student of Greenville County Schools with a full-time co-op where he works 40-65 hours a week.