2021 Soccer Championships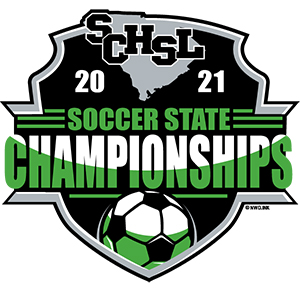 Soccer State Finals:
Thursday 5/13
Friday 5/14
Saturday 5/15
4:00pm — 2A Girls
1:00pm – 1A Boys
10:00am – 3A Girls
7:30pm — 2A Boys
4:00pm – 5A Girls
1:00pm – 3A Boys
7:30pm – 5A Boys
4:00pm – 4A Girls
7:30pm – 4A Boys
GAME SITE:
Irmo High School
TICKETS:
$12.00 digital tickets only
Ticket will only be good for that game.
Cash will not be accepted at the gate. Please do not validate the ticket until you are at the ticket table.
Merchandise:
https://nwd.ink/s/schsl/soccer-state-championships/
FOOD
AND
DRINK:
No food, drink or coolers are not allowed to be brought into the stadium. Concessions will be available
SPECTATOR REQUIREMENTS:
Masks are required at all times.
Household families may sit together. Seating is marked off in groups of 4.

Tailgating is not allowed. Fans are not allowed on the field or in the field house area before, during, or after the contest.
Spectators should leave the stadium and campus immediately after the contest is over.
Umbrellas are allowed in stadium.
NOISE-MAKERS:
Please remind your fans that no signs, banners, posters, flags, air horns, vuvuzelas, amplified megaphones, or whistles are allowed in the stadium. Such materials will be confiscated, and the individuals may be removed from the stadium.
PARKING:
Paid Parking for spectators is available in the Scoreboard lot on the corner of St. Andrews Road and Emory lane. The only entrance is off Emory Lane.
Free Parking is available in front of the school. Handicapped Parking is available directly behind the stadium using the back entrance off Emory Lane.